How Much Does Charging an Electric Car Cost?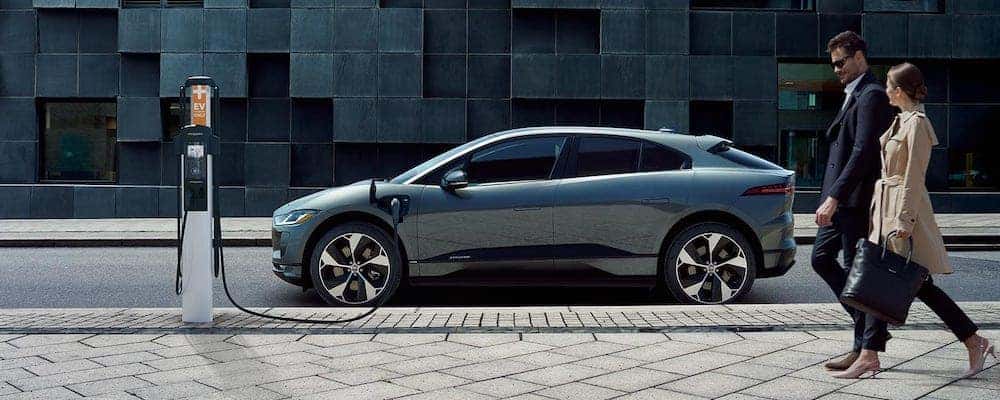 Shopping for an electric car like the Jaguar I-PACE near Laguna Beach? Want an answer to the question "how much does it cost to charge an electric car?" Find out how to calculate the cost of charging your electric vehicle at home, as well as what it might cost if you want to charge your EV on the go. If you have any questions about EV charging costs, EV tax rebates, or Jaguar vehicles, contact Jaguar Mission Viejo, your local authorized Jaguar retailer with any questions!
Cost of Charging Your Electric Vehicle at Home
Whether you use an electric vehicle home charging port or a normal domestic outlet to charge your electric car, follow these tips to estimate the cost per mile or per "fill up" for your model.
Know your electricity rate at home. Electricity is charged by the kilowatt-hour (kWh). Check your most recent electricity bill to find the $/kWh rate you are being charged at home. The average rate for Los Angeles residents is near $.183 per kWh (as of February 2019), and the national average for electricity rates is $.136 per kWh.
Know your vehicle's kWh/100 mi rate (kilowatt hours per 100 miles). You can find this information by searching for your vehicle's make, model, and year at fueleconomy.gov.
Multiply the two rates. For example, the Jaguar I-PACE gets 44 kWh/100 mi. If you multiply that by .183 (for the average electricity rate of $.183 per kWh), you'll find that it costs $8.052 to get 100 miles of charge. According to fueleconomy.gov, this means you'll save $2,500 over five years in fuel costs compared to the average new vehicle.
Learn about the Time of Use discounts near you. You may be able to take advantage of discounts if you charge your vehicle at home during "off-hours."
Cost of Charging an Electric Car in Public
There are a wide variety of free public charging stations in the Coto De Caza area, for example in hotel parking garages, store parking lots, and more. You will also notice there is a growing number of private companies that offer charging networks and a variety of payment options. Paying to charge in public tends to cost more than charging at home:
Per kilowatt-hour (not all states permit this type of pricing–California is one of 15 states that do allow it): could range around $.40 – $.80 per kWh
Per minute (often rounded up to the nearest 30-second interval): usually less than $.10 per minute.
Per charging session: Around $10 per session or less
Other: Some companies offer a monthly subscription system, while others offer a system where you pay a flat fee for a certain number of hour-long charges, or even an hourly rate that is added up at the end of the month.
Shop for Electric Vehicles at Jaguar Mission Viejo
Get all your electric vehicle questions answered at Jaguar Mission Viejo, like how long it takes to charge an electric car, or how much does the Jaguar I-PACE cost? Then find electric vehicles for sale near Irvine by browsing our inventory of new Jaguar I-PACE models at your local authorized Jaguar retailer! You can even apply for financing online ahead of time to get the process started before your visit.
More About the Jaguar I-PACE
Thinking of purchasing the new all-electric Jaguar I-PACE but worried about where you can charge it while on the go in Coto De Caza? Find out more about charging stations for your award-winning I-PACE below, and contact us at Jaguar Mission Viejo if you have any questions! Contact Us Learn More Tips for Finding Electric Car Charging Stations Near Me California…

The price of the 2019 Jaguar I-PACE starts at $69,500 MSRP for the base S configuration. If Irvine drivers upgrade to the top trim, the First Edition, they'll pay $85,900 MSRP. While this price may sound steep from the outset, the base configuration of the Tesla Model X is around $90,000. Plus, in choosing the…

Jaguar's all-new, all electric, performance SUV will be arriving in Mission Viejo any day now! Built from the ground up to be just as thrilling as its internal combustion siblings, the thrilling 2019 Jaguar I-PACE electric SUV offers the perfect marriage of efficiency, performance, and environmental responsibility sure to delight California drivers. Best of all? It…