Where Are I-PACE Charging Stations?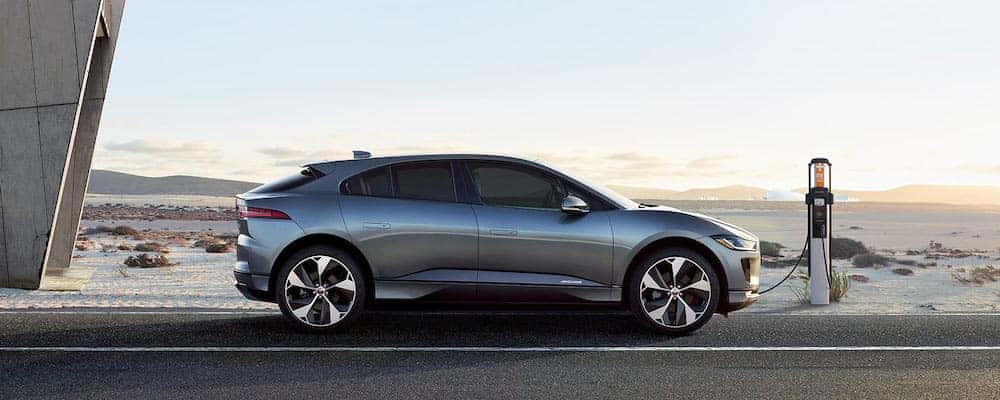 Thinking of purchasing the new all-electric Jaguar I-PACE but worried about where you can charge it while on the go in Coto De Caza? Find out more about charging stations for your award-winning I-PACE below, and contact us at Jaguar Mission Viejo if you have any questions!
Tips for Finding Electric Car Charging Stations Near Me
California is the most accommodating state in the U.S. when it comes finding electric vehicle charging stations, especially in Los Angeles and the surrounding area, where you'll find hundreds of charging AC and DC fast charging stations. Here are some easy ways to locate charging stations in your area:
Navigation Pro

One of the high-tech Jaguar I-PACE features is Touch Pro® Duo, this helps you locate nearby charging points, monitors battery range, and displays 3D maps. If you are routing a trip, it can calculate when you should stop for a charge and add a relevant charging station along your route for you.
National and Regional Chains Offer Electric Vehicle Charging

Everyday shopping destinations like Walgreens, Whole Foods, Ralph's, Macy's, Ikea, Kohl's, Sears, and Walmart may have EV charging–check their websites!
Taking A Road Trip? Renting an EV for a Business Trip?

Websites like chargehotels.com can locate electric vehicle charging stations at popular hotel destinations like DoubleTree, the Marriott, Embassy Suites, and the Hilton.
Public Parking Options

An increasing number of parking garages and shopping malls offer charging stations, usually located in parking spots close to the entrance.
Download an App to Easily Find Public Charging

ChargePoint, PlugShare, ChargeHub EV Map, NEXTCHARGE, and EVgo are popular smartphone apps people can use to find charging stations near Laguna Beach, even if you don't have the I-PACE with Navigation Pro.
Find Charging Networks

The number of privately-run charging networks like Blink is growing in California. At Blink charging stations, parking is free but you pay a per-kilowatt rate to charge your I-PACE.
Jaguar I-PACE Charging
The 2019 Jaguar I-PACE offers up to 234 miles of range. This means you can enjoy going about your day knowing you will have plenty of charge for errands and commutes. Whether you want to top off your charge while going to see a movie or doing some grocery shopping, or you're getting ready for a big road trip, you have a lot of charging options for quick EV charging in the Irvine area:
50 kW DC fast chargers are common fast chargers found at public charging stations, charging the I-PACE up to 80% in 85 minutes.
100 kW DC rapid chargers are less widespread but when you do use one you can charge your I-PACE up to 80% in 45 minutes.
Download the InControl® Remote™ app to check up on your I-PACE from afar. You can check your vehicle's range and charging status, as well as the current charge rate, and the state of the plug on your smartphone or Apple Watch. This way, you can rest easy when you leave your I-PACE to charge in public.
Experience an I-PACE at Jaguar Mission Viejo
The I-PACE is with your reach! Learn more at Jaguar Mission Viejo about the I-PACE price and interior dimensions, and compare electric vehicle charging times, or find out how much it costs to charge an electric car. Then schedule a test drive and make the trip from San Juan Capistrano to get started!
Learn More at Jaguar Mission Viejo
The 2019 Jaguar XJ configurations offer six different trim levels, two wheelbase sizes, and four powertrains. Innovative features include active ventilated heated and cooled front and rear seats, an 825W Meridian™ Surround Sound system, a panoramic moonroof with power blind, 10-inch InControl® Touch Pro™ with Connected Navigation and Pro Services, Remote & Protect™, and more….

The Jaguar E-PACE has gained quite a following with Coto De Caza and Laguna Beach drivers for its exceptional performance and style, but the impressive cabin just might be our favorite feature onboard the latest model. The 2020 Jaguar E-PACE interior showcases high-quality materials, undeniable craftsmanship, and some of the most cutting-edge features on the market today. If…

The 2020 Jaguar I-PACE is in a luxury sedan in a class of its own. The awards it has won are proof of that, as are the satisfied customers who have bought their new electric SUV from Jaguar Mission Viejo. It has an incredible 234-mile driving range, high-powered lithium-ion batteries that deliver nearly 400 hp on…