What is the Jaguar Maintenance Schedule?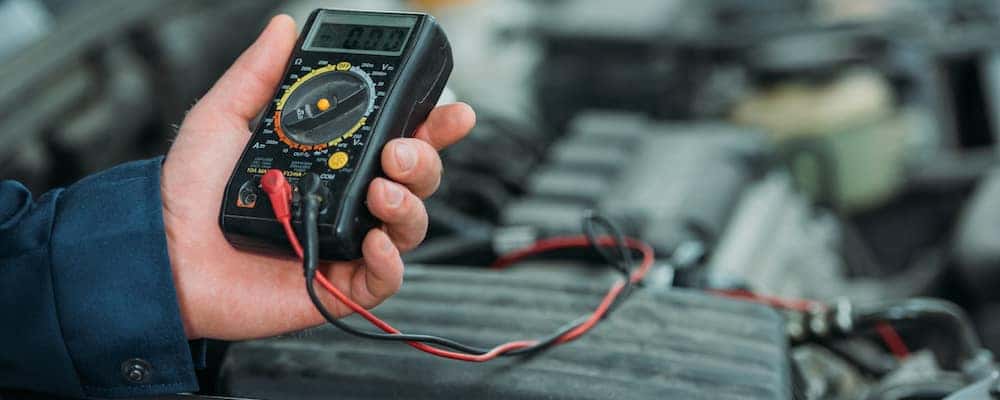 The Jaguar maintenance schedule can vary, depending on the Jaguar model you drive and its engine type. However, some services and service intervals apply no matter the model and powertrain. Below, you'll find an overview of recommended maintenances for Jaguar vehicles — both new and used. If you need any of the following maintenances and repairs, our service center near Coto De Caza can help!
Jaguar Service Every 5,000 Miles
Once your vehicle reaches 5,000 miles, it'll need the following services at that point, and every 5,000 miles going forward:
Change the engine oil and filter
Lubricate the door hinges and body fittings
Clean and lube the power antenna
Check and adjust all fluids
Visually inspect underneath the vehicle
Check and rotate the tires
Inspect the windshield wipers and washer fluid
Inspect the lights and, if needed, replace bulbs
Inspect the belts and hoses
Inspect the HVAC system
Perform a road test
Jaguar Service Every 15,000 Miles
During this service, a technician will complete all services performed during the 5,000-mile inspection, plus:
Replace the spark plugs
Check the air filter and, if needed, replace
Inspect and clean the throttle plate
Check the belt adjustment
Inspect the braking system
Lubricate the door locks
Grease the wheel bearings
Jaguar Service Every 30,000 Miles
In addition to all services performed during the 5,000- and 15,000-mile inspections, your car will also receive:
Replace & Adjust
Replace the transmission fluid and filter
Replace the rear axle lube
Replace the power steering fluid
Repack the front wheel bearings
Replace the oxygen sensor (every 90,000 miles)
Adjust the drive belt and replace (every 6 years or 60,000 miles)
Torque propeller shaft bolts
Lubricate
Lubricate the accelerator linkage
Lubricate the brake pedal
Lubricate the distributor advance mechanism
Lubricate weather stripping
Inspect
Inspect the exhaust system
Inspect the rear transmission mount spool and, if needed, replace
Inspect the battery and replace (after 4 years)
Inspect the brake discs and rotors
Check brake fluid levels, brake hoses, and pads
Check the cooling system
Inspect the door hinges and locks
Inspect the engine and engine mounts
Inspect the exhaust system
Inspect the fuel system
Inspect the handbrake
Check the lights and controls inside and outside the vehicle
Check the seatbelts
Check the steering system
Check the wheel alignment
Check the wheel lug nuts
Schedule Jaguar Maintenance at Jaguar Mission Viejo in Mission Viejo!
Does your car need any of the above-listed services? Schedule a service appointment at Jaguar Mission Viejo, located near Coto De Caza and Laguna Beach. Don't hesitate to contact us with any questions about Jaguar maintenance costs and Jaguar parts! And for more car care information, check out our handy guide on how you can best take care of your car's leather seats.
---
Related Posts from Jaguar Mission Viejo
Shopping for an electric car like the Jaguar I-PACE near Laguna Beach? Want an answer to the question "how much does it cost to charge an electric car?" Find out how to calculate the cost of charging your electric vehicle at home, as well as what it might cost if you want to charge your EV…

The Jaguar maintenance schedule can vary, depending on the Jaguar model you drive and its engine type. However, some services and service intervals apply no matter the model and powertrain. Below, you'll find an overview of recommended maintenances for Jaguar vehicles — both new and used. If you need any of the following maintenances and…

Here at Jaguar Mission Viejo we are proud to be the only AAA Approved Jaguar Land Rover Repair Center in Southern California. That means that we have met the very high standards of the AAA Approved Auto Repair (AAR) program, and our customers from Coto De Caza to Laguna Beach can count on receiving dependable maintenance and repair services every…